In July 2006 the US administration in Guantanamo reported that three prisoners at the detention facility committed suicide. Senior US officials, including camp commander Admiral Harry Harris described the deaths as acts of "asymmetric warfare" while deputy US Assistant Secretary of State for Public Diplomacy, Colleen Graffy, said the incident as a "good PR move" by the prisoners.
Meanwhile, thousands of miles away, the families of the men who had waited an agonising five years for their loved ones met the news of the deaths with shock and acceptance. Shock (and disbelief) at the notion that their sons would commit suicide after having passed through trials even harder than Guantanamo, and acceptance in the way any Muslim is supposed to respond to a calamity: From Allah we came and unto him is our return.
The father of one of these men, Col. Talal al-Zahrani, a former head of police for the Madinah district in Saudi Arabia, recently attended the Oslo premier of the documentary film Death in Guantanamo which tells the story of his quest for justice. Cageprisoners director Moazzam Begg met up with Col. Talal there and conducted the following interview:
Moazzam Begg: In the name of Allah Most Compassionate Most Merciful. Sheikh Talal, as-salaamu alaikum wa rahmatullahi wa barakaatuh
Colonel Talal al-Zahrani: Wa alaikum as-salaam wa rahmatullahi wa barkaatuh. My sincere welcome to you Moazzam Begg.
MB: Can you please introduce yourself to us and explain how your (son's) case became well-known?
CTZ: Firstly, I would like to thank you for taking interest in this case. I am Talal al-Zahrani, father of Yasser – one of the men who died in Guantanamo. This story of course has now become infamous because he [Yasser] is one of the three about whom the US administration declared had committed suicide at the Guantanamo prison around five years ago. Of course, this statement is something that we rejected the moment we heard it and, after that when more facts surrounding the incident began to emerge – i.e. that they had been killed in prison by some of the guards - our rejection of the US version of events was complete. This information came to light via some sources in the US – and elsewhere – such as the US Center for Constitutional Rights and the lawyers working with them who have taken on this task and started the case and we have given them all the relevant information regarding this case.
However, we have never received any response or co-operation from the US authorities to date but that has not prevented our determination in seeking to expose the truth behind these crimes and to have our day in court.
MB: We are presently in the city of Oslo, Norway. Can you tell me what has brought you here?
CTZ: I was invited to attend the screening of the film that I had taken part in the shooting of several months ago, so I am here to see it and meet people here at a conference.
MB: What do you see are the benefits of such a film, especially in places around the Muslim world, would such a film be welcomed?
CTZ: Any attempt to get at the truth of what happened, in my opinion, is beneficial and I believe this film does a very good job of doing that.
MB: Many people attended the screening and many more came to the conference to hear about your plight. How was the film received and what was the interaction with you like?
CTZ: Many people came and showed a great deal of support and sympathy. They were affected by what they saw and heard; several of them were even crying. They were greeting me with so much warmth and humanity and offered all their support.
MB: Before we continue I'd like to get some background details from you. What was Yasser like as a person, what was his life like before and what was he like as a son?
CTZ: Yasser was a young Muslim man – he was brought up in a practicing] Muslim household. Like many others his age he would hear about the affairs of the Muslim world, what it was going through and felt the pain that many Muslims were feeling eventhough he was not experiencing it himself. Among the places he was concerned with where he felt people were undergoing aggression and oppression was Afghanistan – despite his relatively young age. Thus he travelled there with the intention of assisting the Afghan people to do whatever he was able to.
MB: What was he like the last time you saw him, what frame of mind was he in?
CTZ: He was in high spirits and full of life. He was a very optimistic person; he loved sports, he had no physical or mental problems, al-hamdu lillah, he was a normal person who loved his studies, loved seeking knowledge but, he was also very affected by what was happening in the Muslim world and that is why he went to Afghanistan.
MB: So that was in 2001, before the US-led invasion?
CTZ: Yes, it was by a couple of months. It was the first time he left the Kingdom [Saudi Arabia] – he'd never been anywhere before that.
MB: When did you first hear about his capture and what was your reaction to this news?
CTZ: Well, he called us about six weeks after he'd left and told us that the country was in turmoil [following the attacks on the US] so we told him that he should now return home. However, we did not hear from him after that – all contact was cut – until almost five agonising months had passed. We didn't know if he was alive or dead.
MB: So you had no news of him at all?
CTZ: Of course we saw the news regarding the US invasion, the bombing, evacuations and deaths but we didn't know anything about our son. After five months we had a telephone call from the Saudi authorities who informed us "your son is in Guantanamo". That was the first time we heard this news.
MB: How did you react, what was your prior impression of Guantanamo?
CTZ: At that time we didn't know very much about Guantanamo other than it is a US prison. We had no details of why he was taken there, why he wasn't held on the US mainland, Afghanistan or anywhere else in the world. We discovered the reasons for this much later.
MB: Did you fear that prisoners' rights were being violated or that they were being tortured in US custody?
CTZ: None of us who heard about the detentions expected that Guantanamo – and what preceded it – would achieve notoriety as one of the worst prisons in history through the abuse of basic human rights and the systematic application of torture. We never imagined, not even one per cent, a nation we once looked up to, which claimed to uphold the highest levels of justice, freedom and human rights in the world could become the greatest violator of these rights.
MB: How did people in your society react to the news of Yasser's incarceration, were they afraid, did they avoid you or were they sympathetic?
CTZ: To be honest from all the people we known from inside the Kingdom, or outside of it, we found to be very sympathetic because they knew our son and what he was like. He had no associations with anyone – he had simply gone for humanitarian work and was suddenly kidnapped from the land [Afghanistan] without explanation, after being falsely accused [of terrorism links], and sent to terrible prisons where he was tortured and then they informed us that he had committed suicide. So everyone we came across has been sympathetic – even Americans who have recognised the lies put forward by the US authorities have shown us great empathy, right from inside the US.
MB: What were your instincts as a father, did you think your son would remain in prison for a short while and return home or were you resigned to the prospect that he would remain there for a very long time?
CTZ: In truth we never expected – in the beginning – that anyone would leave that prison. We understood that it is a terrifying place where torture is practiced routinely, but when the first sets of Saudi prisoners were released our hopes were renewed that our son would also be freed. In fact, we believe he was due to be released with the third group of Saudi prisoners and we had mentally prepared for that.
MB: So you were receiving letters from him regularly?
CTZ: The postal system was sporadic – we received letters from him intermittently. Sometimes it took a long as a year to get a reply; we recognised later this was another method of psychological torture in order to keep the prisoners incommunicado from their loved ones so that no ones knows of their state or plight.
MB: You mentioned in the film Death in Guantanamo that you regard your son as a 'hero'. Why did you say this?
CTZ: Because firstly he had gone for humanitarian work. Secondly, the powers that kidnapped, tortured, abused and ultimately killed him are oppressive, tyrannical, aggressive and malignant; they spread false rumours that in reality are unbelievable. These powers exercise distorted media lies to justify, kidnapping, imprisonment, torture and killing (death). My son was firm and brave and did not admit to any lies and false accusations levelled against himself despite the sever torture inflicted upon him and this was acknowledged by his fellow detainees who knew him. Yasser stayed firm upon his principles and only communicated the facts that they already knew and was patient upon this until they killed him and therefore I say that he was the possessor of morals and a hero. He had clear objectives in relation to himself and others. May Allah have mercy upon him
MB: You also said "he did not want to harm you", that he used to say his situation was good and did not complain about problems?
CTZ: This is an aspect of heroism because he used to send us letters of reassurance saying that he is well and not to worry about him, even when it became clear later on that he was under severe pressure, suffering under a regimen of physical and psychological torture which the former US Defense Secretary has admitted, that orders were given to officers and those responsible for the prison which permitted the practice of torture of every kind – physical, psychological, ideological –, torture which was designed to violate human rights and to transgress against [the prisoners'] humanity and dignity. During this period of extreme hardship he [Yasser] would write to us and tell us not to worry and that all was well with him. This is an indication of his high morale and maturity.
MB: Of course, all that happened in Kandahar and Guantanamo was predated by the events of the Qala-i-Jangi massacre. Did you know that he had been a survivor of that place?
CTZ: We learned about this much later. The Qala-i-Jangi incident is a huge war crime which should be counted amongst the worst in modern human history, in which over 500 men were falsely imprisoned, and, with their hands bound behind their backs they were fired upon and then they [the survivors] entered the fortress (Qala) to save themselves from and resist the efforts of those who were trying to kill them using various barbaric methods – outside of any legal process. For close to two weeks they were subjected to this during which time over 500 were killed – may Allah have mercy on them all; Yasser was one of the 70 or so who survived this bloodbath.
MB: How did you receive the news of your son's death and what went through your mind at the time?
CTZ: News of the death of my son – may Allah have mercy on him – was very sudden and unexpected. It was undoubtedly very painful and created intense feelings of sadness that deeply wounded our hearts. What made the pain and sorrow worse was the lies put out by the US authorities about the nature of his death – stating that he had committed suicide, something we later we able to establish was a complete falsification of the reality. All of this increased our anguish and grief, but it also made us angry.
MB: Where did this news come to you from – through the media, or the government?
CTZ: We were informed by the Saudi Interior Ministry – they told me that my son was amongst the three who had committed suicide.
MB: How long after that was it that you saw Yasser's body and were able to look at it?
CTZ: About three days after the story broke the Saudi Interior Ministry informed me that my soon had committed suicide. After that, about another week later the bodies arrived at Riyadh and we were informed that we could come to see him and collect the remains.
MB: What were your thoughts at the time when you first saw the body of your son?
CTZ: The grief of parents seeing their child's body is one that is without doubt very painful; but, we say "From Allah we come and unto him we shall return," and we are patient and hopeful [in Allah's mercy] because people die in all types of circumstances, but when a man dies for a higher purpose, defending the oppressed, serving the weak and is helping to save them from harm [such as in Yasser's case] this gave us solace, on the one hand. On the other hand, we felt that those who carried out these crimes [against him] were cowards, and this also gave us some consolation. However, in the end, there is no doubt that the sadness and pain will remain with us for a long time.
MB: For any parent this is extremely testing and hard, yet you examined your son's body and noticed something. Can you say what that was?
CTZ: Yes. When I looked at the body I saw what I'd expected: signs of torture and abuse. As I said, the US administration has admitted the authorisation and practice of torture so I was expecting to see its effects. But the signs I saw were even more than I'd anticipated: there were some terrible marks on his head, chest, face, arms and many other parts of his body. For example, his larynx had been removed. All of this showed the savage and cowardly nature of the people who did this. Those who torture prisoners are cowards. He was in isolation, a young boy who they killed and then accused of committing suicide [as a means of 'asymmetric warfare']. This is cowardice of the highest order.
MB: We saw from the video footage of the janaazah (funeral) procession that large numbers of people attended. How did they respond to the news in your locality and what were they saying?
CTZ: People reacted in the way of human fitrah (natural disposition): they rejected and were disgusted by this arrogant and repressive treatment of the prisoners; conceitedness against Allah's creation, violating the rights of men. The people were following events closely. They were very angry against America and its policies – as you can see in the film. They were chanting "Allahu Akbar" and repeating slogans against the US and its policies. That is very clear.
People came in their thousands that day to the Masjid an-Nabawi (the Prophet's Mosque) in Madinah to attend the funeral prayer. They had come from all over the country – not just Madinah – but from Riyadh, Makkah, north and south of the country. Yasser was buried in the graveyard of al-Baqi, may Allah have mercy on him.
MB: At what point did you decide that the US' version of events was not credible and that you would seek redress against US authorities?
CTZ: I decided from the first moment that I would try, to the best of my ability, to uncover the truth about my son's death and to investigate the section [of the military] that had perpetrated this crime so that they receive what they deserve [of justice]. From the very beginning I had support, which I have to admit, came when I received communications from the US-based Center for Constitutional Rights (CCR) lawyers who were concerned with human rights and the abuses [taking place at Guantanamo] – independent [of the US Government] of course – and they told me about their focus [on Guantanamo]. They came highly recommended from some friends of mine who had worked in the US who said they would take our case to the highest level (in sha Allah).
MB: You took your case to the US courts and accused former US Defense Secretary Donald Rumsfeld of being personally responsible. Why him?
CTZ: Rumsfeld was the Minister of Defence. He is responsible without a doubt. The prison [Guantanamo] was under the administration of the Ministry of Defence. Rumsfeld was in charge and, he had already authorised the use of abusive techniques which is well-known. Thus, as far as we are concerned he is directly responsible. If this is properly investigated and presented to the courts it will become apparent that he was fully in charge and giving the orders. All of this will become clear and so we are seeking for this man to be prosecuted in addition to everyone who supported him in committing this crime.
MB: The Guantanamo deaths are still commonly referred to as 'suicides', but of course you have rejected this appellation. One of the soldiers [Staff Sgt. Hickman] who was present when the deaths occurred has openly claimed that 'no one committed suicide that night', supporting your suspicions all along. If you ever had the opportunity to meet those soldiers who were responsible for and took part in the death of your son, what would you say to them?
CTZ: There is no doubt that those who took part in and are responsible for this crime are amongst the worst types of criminals. Why? Because when an ordinary person commits a crime – even if it's relatively small, he is regarded as a criminal. But when abuses are committed by a guard against a prisoner supposedly under his protection – he is responsible for that prisoner's safety and then he kills that prisoner, he tortures him for years on end, and practices new techniques on him and then he kills him while his hands and legs are tied, such a person has descended to the lowest levels of humanity and has become a savage, having transgressed the limits of that humanity. Therefore, such people must be exposed and their crimes laid bare for the entire world to see. Such methods should not be available for use by countries that claim to raise the flag of human rights, freedom and justice while they are committing the worst abuses of all these rights in the world.
MB: How have you met your tests, as a Muslim, in relation to your son and faced up to them as a father?
CTZ: My dear brother. We are Muslims and Islam is peace, but it is not surrender to evil. And peace is offered to all those who want peace, but it does not meant surrender to all those who want to spread evil, corruption and transgression against others. A Muslim knows what his relationship to such things is – he does not transgress the rights of others nor does he allow others to violate his rights. So whoever thinks that he will make us Muslims bow to the might of such policies with repression and bombing, with fabricated evidence and lies devoid of facts, is deluded. Islamic people will never bow or prostrate to anyone other than to the One who created them. And we are of them.
MB: Finally, what message or advice do you have for Muslims in specific and people in general in relation to your case?
CTZ: I advise myself and my Muslim brothers with the words of the Most High: "...do not allow your animosity of a people to cause you to do them an injustice, be just, that is closer to taqwa [God-consciousness]." In this regard taqwa is being just in ones affairs with others – be they Muslim or not. Do not respond to transgression with injustice, this is not from Islam. Responding in such a manner is not differing from the oppressor but is rather becoming like him.
MB: Sheikh Talal may Allah ease your hardship and reward you with the best for speaking so candidly to us.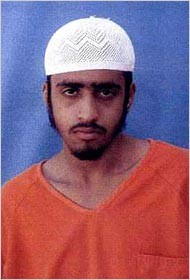 Yasser Talal al-Zahrani who died in Guantanamo in June 2006
*Interview translated from Arabic and transcribed by Moazzam Begg
Click here for Cageprisoners' review of Death in Guantanamo